CLAT 2024: The Consortium of National Law Universities (NLUs) has introduced the application form for CLAT 2024 starting from July 1, 2023. Prospective applicants have until November 3, 2023, to complete their CLAT 2024 registration process.
Table of Contents
About CLAT 2024
CLAT 2024 exam will be conducted on December 3, 2023, in offline mode. CLAT exam 2024 will be conducted in more than 130 exam centre across the country. Earlier, the consortium had announced some changes to CLAT 2024 pattern. Instead of 150 questions, now students will be required to attempt 120 questions in the CLAT 2024 exam. The CLAT syllabus 2024 and exam pattern remain unchanged except for the reduced number of questions. So, law aspirants who wish to appear in the Common Law Admission Test should start preparing themselves. CLAT 2024 question paper will have 120 multiple choice questions to be asked from subjects such as English, Legal aptitude, logical reasoning, maths and general knowledge including current affairs.
Exam Notification
According to the most recent notification issued by the NLU Consortium, the Common Law Admission Test 2024 is scheduled for Sunday, December 3, 2023. Those aspiring for admission to national law universities must complete the application process and participate in the entrance examination.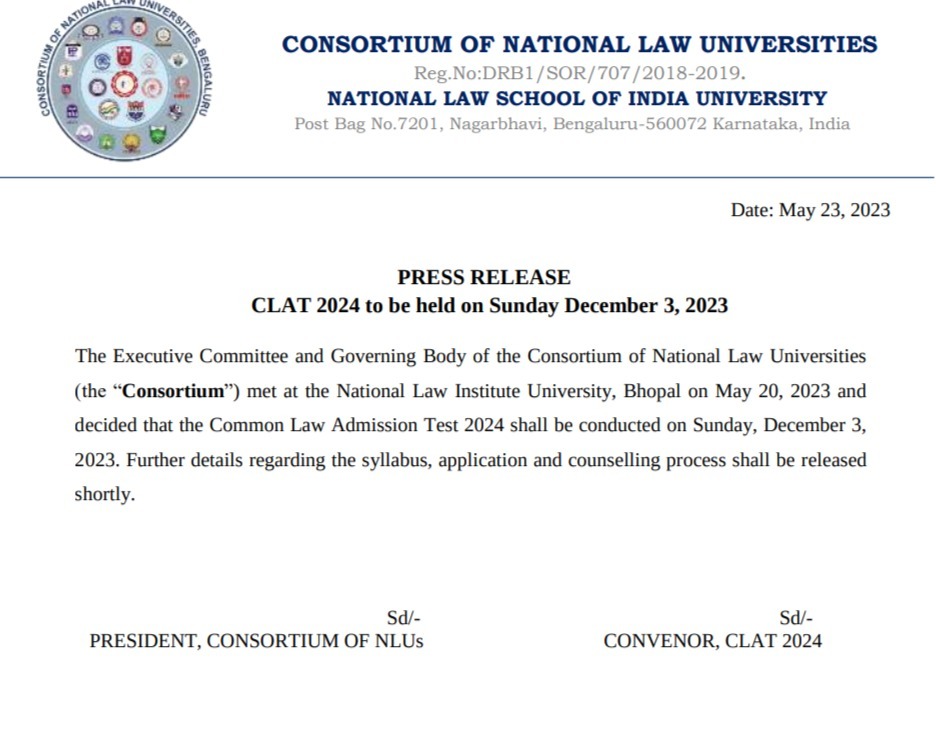 Overview
Name of examination
Common Law Admission Test
Popularly known as
CLAT
Conducting body
Consortium of National Law Universities
Level
National level
Purpose
Admission to 5-year integrated LLB and LLM Programmes
Recruitment in various Public Sector Undertakings (PSUs)
Colleges
24 national law universities + over 60 affiliated law schools
CLAT Important Dates 2024
| | |
| --- | --- |
| Event | Date (Tentative) |
| CLAT 2024 application form | July 1, 2023 (Released) |
| Last date to apply | November 3, 2023 |
| Release of CLAT 2024 admit card | November 2023 |
| CLAT 2024 exam date | December 3, 2023 (Announced) |
| Release of answer key | December 2023 |
Candidates who wish to appear in CLAT 2023 must fulfil the eligibility criteria given by the consortium. The course-wise CLAT eligibility criteria are mentioned below.
Eligibility criteria
UG-CLAT
PG-CLAT
Education qualification
Class 12 or equivalent exam with at least 45% marks (40% for SC and ST categories)
Graduation in Law (3-year LLB or 5-year LLB) with at least 50% aggregate marks (45% in case of SC and ST candidates)
Candidates appearing in qualifying exam are also eligible to appear in CLAT 2024
Age limit
No age limit
Attempt
No limit (Candidates who appeared for CLAT 2023 can also appear in CLAT 2024)
CLAT Application Form 2024
The consortium released the CLAT 2024 application form on July 1, 2023. Candidates will be able to access the CLAT 2024 application form from the official website of NLU Consortium – consortiumofnlus.ac.in. The CLAT 2024 registration fee will be Rs. 4,000 for general category candidates and Rs. 3,500 for SC and ST candidates. This year, the consortium has introduced the option of entering NLU preferences at the time of application only.
CLAT Exam Pattern 2024
Candidates appearing for CLAT 2024 should be well-versed in the test pattern. The CLAT exam pattern informs the candidates about the number of questions that will be asked in the exam, the type of questions, the marking scheme, duration and several other important details. Candidates can check the table below to know about the test pattern.
| | |
| --- | --- |
| Particulars | Details |
| Mode of examination | Offline |
| Duration | Two hours |
| Number of questions | CLAT UG – 120CLAT PG – 120 |
| Type of questions | Multiple choice type questions from comprehension paragraph |
| Marking scheme | 1 mark for each correct answer-0.25 marks for each incorrect answer |
CLAT Syllabus 2024
Candidates preparing for the national-level law entrance exam should refer to the CLAT syllabus to know about the subjects they need to study. There has been slight changes in the CLAT syllabus 2024. The total number of questions in the exam have been reduced from 150 to 120. The CLAT question papers will be strictly designed as per the syllabus given by the consortium. The UG CLAT syllabus and PG CLAT syllabus are completely different and are as mentioned below.
UG CLAT syllabus 2024
| | |
| --- | --- |
| Subject Areas with weightage: | (approximate number of questions)*likely to change |
| English Language | 22 – 26 questions, or roughly 20% of the paper |
| Current Affairs, including General Knowledge | 28 -32 questions, or roughly 25% of the paper |
| Legal Reasoning | 28 – 32 questions, or roughly 25% of the paper |
| Logical Reasoning | 22 -26 questions, or roughly 20% of the paper |
| Quantitative Techniques | 10 -14 questions, or roughly 10% of the paper |
CLAT LLM 2024 syllabus
Constitutional Law
Jurisprudence,
Administrative Law
Law of Contract
Torts, Family Law
Criminal Law
Property Law
Company Law
Public International Law
Tax Law
Environmental Law
Labour & Industrial
CLAT 2024 Preparation Tips
Candidates will need around eight to 12 months of preparation time to crack the CLAT 2024 exam and secure a really good rank. Based on previous years' CLAT cut-off trends, a CLAT score of 100 to 105 is considered ideal for admission to the top two national law universities – NLSIU Bangalore and NALSAR Hyderabad. Therefore, effective CLAT preparation is crucial. Here are some tips to help the candidates streamline their preparation.
Subject Wise Preparation Tips for CLAT 2024
The national-level law entrance exam, CLAT 2024 will have four subjects. Candidates can check the subject-wise preparation tips below.
CLAT 2024 Legal Aptitude Preparation Tips
Legal aptitude is a crucial section in the CLAT question paper. Candidates need to be familiar with key concepts of law. A basic understanding of the Law of Contract, Law of Torts, Family Law, and Constitutional law will be helpful for candidates in answering the questions.
Candidates should prepare for CLAT legal aptitude from standard books such as Legal reasoning by A P Bharadwaj. In addition to this, reading newspapers, editorials and legal journals would be helpful in CLAT preparation.
CLAT 2024 English Preparation
This section tests both comprehension reading and vocabulary skills. Candidates preparing for CLAT English should work on grammar skills and simultaneously improve their reading speed and vocabulary. Referring to English newspapers and books such as Word Power Made Easy would help the students prepare for this section effectively.
CLAT Current Affairs, General Knowledge Preparation
This is one of the most important sections of CLAT 2024. Even in this section, candidates will be asked questions from comprehension passages. However, the content of the passage will be derived from the newspapers, current affairs and events of historical, legal, and political importance.
Having a decent level of awareness of current events of national and international importance is crucial for this section. Such awareness will help the students create a background while reading the passages and answering questions.
Candidates are advised to read the newspapers, news analysis, and monthly current affairs for CLAT current affairs preparation.
CLAT 2024 Math Preparation
The CLAT Math carries only 10% weightage in the examination. But, this section becomes a game changer for candidates who are really good in Math. Candidates who prepare well for CLAT Math can answer the questions and secure 10-12 marks due to their accuracy. For other sections, the accuracy of answers may become doubtful as the questions are mostly based on tricky statements.
To prepare for CLAT maths candidates should refer to a decent book that covers topics such as puzzles, interest, profit and loss. Candidates preparing for CLAT maths should practice the CLAT previous year's question papers and identify the topics, and their difficulty level and prepare accordingly.
National Law Universities Participating in CLAT Exam 2024
There are 23 national law universities that will accept CLAT 2024 scores. Only National Law University Delhi, NLU Tripura and NLU Meghalaya are not a participant of CLAT 2024 as they conduct separate entrance exams. The list of NLUs is mentioned below.
| | | | |
| --- | --- | --- | --- |
| NLUs | CLAT Seats | State quota (Domicile and Category) | All India seats |
| National Law School of India University, Bangalore | 180 | 25% | 135 |
| National Academy of Legal Studies and Research, Hyderabad | 132 | 25% | 99 |
| National Law Institute University, Bhopal | 120 | 50% | 60 |
| West Bengal National University of Judicial Sciences, Kolkata | 132 | 36% | 91 |
| National Law University, Jodhpur | 120 | 27.5% | 87 |
| Hidayatullah National Law University, Raipur | 170 | 50% | 85 |
| Gujarat National Law University, Gandhinagar | 172 | 25% | 156 |
| Ram Manohar Lohiya National Law University, Lucknow | 169 | 52% | 81 |
| Rajiv Gandhi National Law University, Patiala | 180 | 10% | 162 |
| Chanakya National Law University, Patna | 138 | 66% | 54 |
| National University of Advanced Legal Studies, Kochi | 60 | 51% | 31 |
| National Law University Odisha, Cuttack | 106 | 25% | 79 |
| National University of Study and Research in Law, Ranchi | 120 | 50% | 60 |
| National Law University and Judicial Academy, Guwahati | 60 | 48% | 31 |
| Damodaram Sanjivayya National Law University, Visakhapatnam | 138 | 40% | 54 |
| Tamil Nadu National Law School, Trichy | 114 | 50% | 57 |
| Maharashtra National Law University, Mumbai | 150 | 63% | 55 |
| Maharashtra National Law University, Nagpur | 120 | 62% | 46 |
| Maharashtra National Law University, Aurangabad | 60 | 62% | 23 |
| Himachal Pradesh National Law University, Shimla | 120 | 25% | 90 |
| Dharmashastra National Law University, Jabalpur (MPDNLU) | 120 | 40% | 48 |
| Dr B.R. Ambedkar National Law University, Haryana | 120 | 25% | 90 |
| GNLU Silvassa Campus | 49 | 35% | 32 |
| Total | 2850 | | 1706 |
Read Also: LSAT India Eligibility Criteria 2024: Age Limit, Qualification